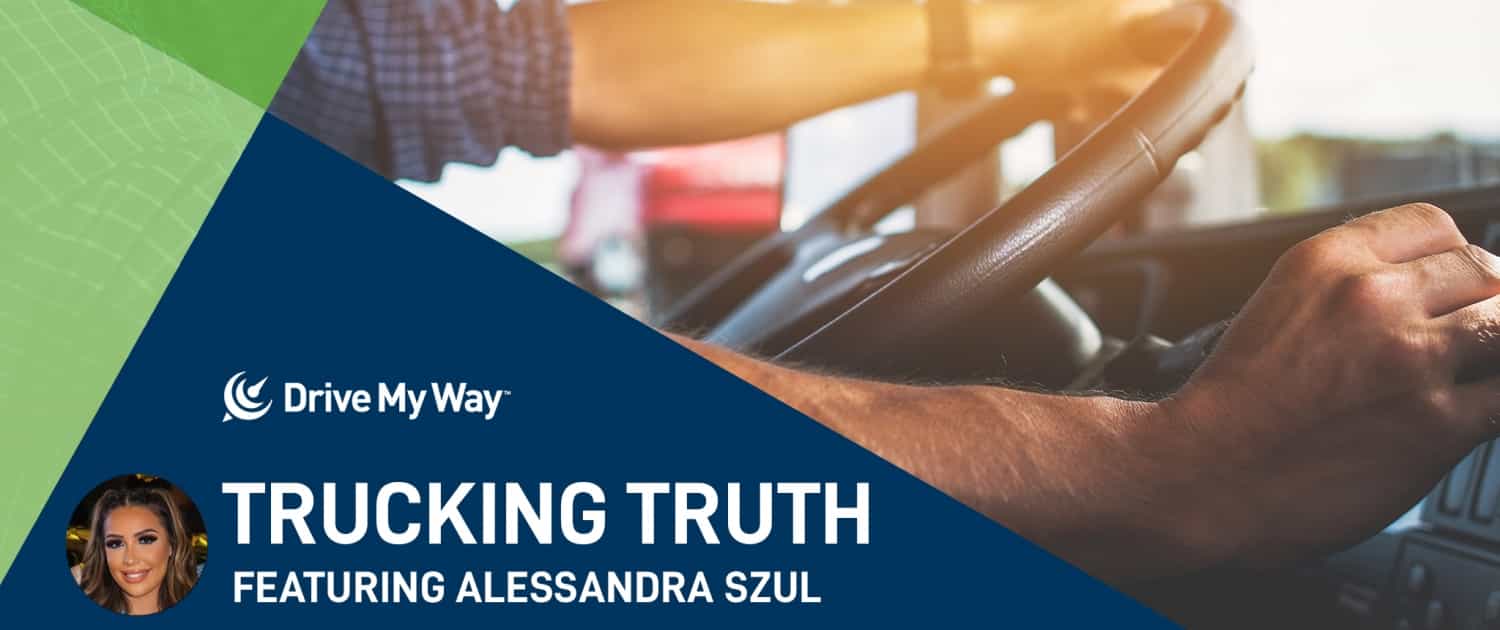 Starting a trucking business isn't easy. However, this didn't stop Alessandra Szul, who saw an opportunity in the industry and started her own trucking company, Flatbush Freight Express, while still in her early twenties.

Started in 2018, Flatbush Freight Express is a female-owned and operated trucking company based in North Carolina.  Drive My Way's CEO, Beth Potratz spoke with Alessandra about what she's learned in her time in the trucking industry, how she tackles driver recruiting, and her advice for others looking to make the jump into starting their own trucking business. 
Q: What's your background and how did you end up in the trucking industry?
I come from a very strong entrepreneurial background. 30 years ago, my mother and grandmother started the largest cosmetic company in the country of Venezuela. I saw the freedom you could have by owning your own business and kept that with me growing up. I ended up going to school for applied computer science and business, because I saw pursuing those fields as a good way to build a foundation that would help me transition into starting my own business.  
After earning my degree, I worked at a few different places in the technology industry. Last year my current partner at Flatbush introduced me to a friend who owned his own trucking company in North Carolina. He was kind enough to show us his books and my first thought was, "This is what I've been looking for. Why can't I do this too?" 
Q: How was your first year in operation and what was your biggest lesson?
It's been exciting and informative to say the least. Not coming from a background in trucking, there was a lot to learn, and I'm very grateful I have my partner to help me with everything.  
One big lesson I've learned is to make sure all my drivers have front-facing dashboard cameras. One of my drivers was involved in an accident earlier this past year. The towing company that arrived on the scene insisted that the truck needed to be towed away to their yard, but my very experienced driver felt that was unnecessary. The whole incident ended up costing us over $10,000 all-in-all before the towing company would release the truck back to us. That's not to mention that the trailer was fully stocked at the time of the accident, so there was a delay in delivery as well. If we had just invested in a dash cam upfront, the whole issue could have been avoided.  
On a positive note, Flatbush has been able to grow from 2 to 4 trucks over the past year. Our goal for this next year is to make it to 10 trucks and go from there. We're also looking to hire our own mechanic. Because as we learned, it's not just the repairs themselves that cost money. It's the loss of money from not having one of our trucks on the road that makes the biggest difference.  
Q: How does Flatbush Freight Express handle recruiting?
Having a strong recruiting pipeline is extremely important to us. Even if we're not hiring, we make sure to be very active on Drive My Way. As a young company, having a constant online presence and making sure drivers know about us is vital to our growth. 
Aside from that, we focus on hiring the right driver, not just the first person. I made that mistake early on and it ended up costing us. That's why we love hiring through Drive My Way. I was lucky enough to find a driver through Drive My Way who had a background in safety and compliance work for Ryder Logistics. It was the perfect match on both ends since our number one core value at Flatbush is safety.
Q: Not being able to have face-to-face time with your drivers must be difficult. How are you still able to build a relationship with them?
Aside from safety, building a strong relationship with our drivers is the most important thing for us. This has been more difficult with Covid, but, something I still actively try to do. For a lot of good reasons, many drivers are skeptical of company owners. That's why I like to spend time talking with my drivers, building that trust between owner and employee. It's taken some time, but I've gotten to the point where my drivers will reach out with comments and concerns or just to chat and send me something they find funny. It's a great feeling and definitely contributes to the kind of culture we're building at Flatbush.   
Q: What advice would you have for someone considering starting a trucking company?
Be honest with yourself if it's something they can afford to do or not. It's very easy to be put in a bad financial spot or even be out of business due to unforeseen circumstances. I would also recommend getting your CDL before anything else. Then saving up to buy one truck, and go from there. It's much easier to find financing if you hold your CDL, even if you don't plan on driving. And once you start earning money, a bank or financial institution will be much more likely to help you finance the second or third truck, so you don't have to bootstrap it all alone.
Alessandra finished with these thoughts:
While everyone at Flatbush Freight Express has their role to play, without the drivers, there's no business. That's why I do everything possible to take care of my drivers and make them feel appreciated. They give up such a huge portion of their lives for this job, that it's the least I can do. For anyone looking to get into this industry, make a point to treat your drivers like family. Do that and the rest will fall into place.
https://hiring.drivemyway.com/wp-content/uploads/2021/10/TruckerTruth.jpg
1024
2048
Reid Smith
https://www.drivemyway.com/wp-content/uploads/2019/03/Untitled-1-3.png
Reid Smith
2021-10-11 13:58:10
2021-10-12 16:03:00
Trucking Truth with Alessandra Szul from Flatbush Freight Express