Truck Driver Happiness and Retention Survey
Are drivers happy at work? What makes them happy? This survey report answers these questions and more.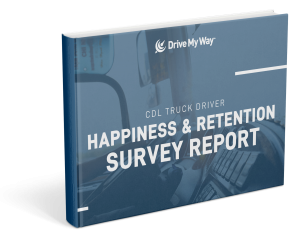 About the Survey Report
Drive My Way surveyed over 400 CDL truck drivers nationwide to discover what makes them happy in their career and life.
Drive My Way is a truck driver recruiting platform completely focused on drivers and their needs. We match company drivers and owner operators with CDL jobs based on more than 20 personal lifestyle preferences. We put drivers first to help them find a job they love.
A few highlights of what's inside:
How many drivers are happy with their current job?
What are the top factors that influence driver happiness?
What do drivers look for in a new job?
How do drivers prefer to communicate?
What do drivers expect during their job search process?