Digital marketing is changing the landscape of how to effectively reach, attract, and convert drivers to a company. Today's technology allows for new possibilities in marketing that were unthinkable only a few years ago. Using the latest digital marketing techniques can make it easier to reach more drivers, capture their attention, and start the recruitment process.
Which digital marketing strategies should your company be using? This guideline will help you navigate what's important to learn from the digital marketing world and how to use it to reach and attract more drivers.
Driver-Centric Content Marketing
In order to reach and attract more potential drivers, your marketing should focus on other objectives besides just the big conversion. Most of the visitors to your website or other digital channels exit before completing an application. Many of them are not ready to apply right now but might be available soon.
Give drivers a reason to stay connected and engaged with your company regardless of where they are in the recruitment pipeline, and they'll remember you for when they are ready for a new gig.
This means curating engaging content that speaks to drivers interests and values. This may include blog posts about driver lifestyle, news stories about drivers in the company, and interviews with, or testimonials from, current drivers. The objective is to get likes, follows and comments, rather than names and emails for applications.
Driver-centric content should be on all digital channels- website, blog, social media pages etc. Content marketing is a long-term investment. You may have the best digital marketing methods and techniques, but without engaging and relevant content they'll all be useless. Content marketing won't yield obvious results immediately, but sometimes slow and steady wins the race.
Social Media
One of the best ways to reach drivers is through social media. This is regardless of whether it's a current driver for your company or a prospective driver. Some statistics here would be great. During their rest breaks, drivers find it more convenient to scroll through social media channels to stay connected rather than text, call, or email.
Drivers are also more likely to engage with company social media account than go to their website unless they are specifically looking for applications.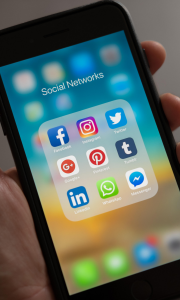 Step one is creating engaging content for social media channels. Tailoring your content to your segments is important. For example, drivers won't be using Twitter as much as they use Instagram. So do some research on your segments and find out which channels they are using. Recent data suggest that Facebook is on the decline, while photo-sharing apps like Instagram and Snapchat are on the rise.
Similarly, tailoring content-type for the channel will go a long way. Sharing photos or videos on Twitter is not as effective as sharing them on Instagram. Videos will do well on Facebook and YouTube. Sometimes cross-posting the same content across different channels makes sense, and other times you want to keep them separated. Twitter is best for links to news stories with short comments, but don't expect a lot of traffic.
Do your research to find the channels that work best for you. Some software will help you schedule posts ahead of time and track usage data. Use data analytics to drive insights about what is working, and what can be improved.
Data Analytics and Search Engine Optimization
So you've built a great website and blog with engaging content for your segment. Great! Too bad it's buried in some corner of the Internet and not getting any traffic. Using search engine optimization (SEO) can help improve your posts so that they yield better search results on Google and get more viewers.
Use free software like Google Keyword Planner to discover which words related to your content are being highly searched. These phrases can be integrated better into the title, meta description, alt image caption, and body of the content. This will ensure that this phrase gets picked up by Google's search algorithm and your page gets bumped up in search results, ultimately getting more views.
There are many free and paid software which provide SEO tools for businesses. Using data analytics can also be useful in creating new content.
Packages like Google Analytics can analyze user behavior and traffic to the website. It can help answer questions like who is viewing the site, at what times, from which locations, on which pages, for how long, and many other questions. Using insights from these data, you can refine your content, the design of the website, the times when articles are posted, and so much more.
Similarly, if you're sending out a newsletter, software like Constant Contact can create analytics reports on open rates and click rates and can provide insights which will help you optimize your content.
So Much More
There's a whole world of digital marketing tools out there. Do some research and find out which tools would be best for your marketing objectives, and how to best utilize them. Our employer blog will also cover more of these topics in the future.
In addition to finding out about current tools, keep an eye out periodically for newer tools. Digital marketing is an arena that is changing extremely rapidly, so today's tools might soon be outdated. Keeping your finger on the pulse of that change will prove useful, especially if you can use the proper tool before the competition does.
https://hiring.drivemyway.com/wp-content/uploads/2019/03/Untitled-5-1.jpg
1192
2992
Kerry Marinchick
https://www.drivemyway.com/wp-content/uploads/2019/03/Untitled-1-3.png
Kerry Marinchick
2019-03-14 09:53:53
2020-08-13 16:21:11
Reach More Truck Drivers with Digital Marketing