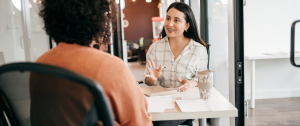 Recruiting truck drivers can be tricky. With the ongoing driver and freight shortages, coupled with evolving hiring practices industry wide, it is important to have clear standards and policies that follow realistic and measurable recruiting goals.  
Every company has different hiring practices depending on fleet size and capability, so setting realistic recruiting goals is an important step for your company to find top talent who are the right fit for the job. Keep reading to find out Drive My Way's 5 tips to set realistic recruiting goals that will take you from hiring to onboarding in no time.  
Understand and Define the Need
How many drivers do you need? Do you know which drivers are necessary for each market? These are important questions to ask yourself when setting foundational goals in recruiting. If you set goals regarding how many drivers you need and the necessary qualifications, you will be able to assess if your sourcing strategy will provide enough candidates that fit the criteria needed for your company. This is why it is essential to know where potential candidates are looking for jobs or industry updates.  
It's also important to understand why the opening exists to be able to create hiring goals. If a driver is retiring, how far in advance should you be looking for a replacement? If you're anticipating growth within your company, how should this reflect in your hiring practices? Defining your company's demand is an important step to creating specific and attainable recruiting goals.  
Set Goals on a Timeline
Setting goals is a key part of working ahead of time and being prepared. The hiring process can take a lot longer than you anticipate. Background checks and drug clearing house processing alone can add days or weeks. Allotting extra time and being flexible when creating will help you remain on track and still be able to measure your success.  
Even with goals set, you should still start ahead. Strike up connections with potential candidates, even if the time isn't right yet. You'll thank yourself later for being proactive now, by networking with drivers who could be a fit down the road.  
Establish Clearly Defined Minimum Qualifications 
Save yourself time and money by setting recruiting standards specific to your company. Well defined hiring criteria will ensure that every candidate meets the basic requirements, so you can spend more time with these candidates to eventually find the perfect match. It's also important to be up front about your minimum qualifications. For example, if your company requires hair-follicle drug testing and you mention this on the job posting, candidates may self-select out and save you both in the long term. 
You also can't have unrealistic expectations for applicants. You might prefer drivers to fill out an extensive application, but in today's competitive market, drivers tend to not fully complete applications until all their questions have been answered. Be sure to make job listings mobile-friendly, and don't be afraid to reach out to candidates with partially completed applications or you could lose top talent by setting unattainable goals.  
Provide Goals with Incentives for Recruiters
Providing recruiters with incentives is a smart move to encourage high hiring rates and team morale while achieving your recruitment goals. When doing this, it is also important to make sure to have goals measuring quality metrics and not just hiring volume.  
As potential candidates progress through the phases of the hiring process (sourcing, screening, interview and selection, background check, offer and acceptance, orientation and training), it is important to measure your conversion rates through each of these phases to ensure efficient and effective practices. Providing incentives for recruiters successfully bringing candidates through this process will help you achieve your goals while keeping your team invested in the company.  
Set Goals From Recruiting to Orientation 
You have to look at the total candidate experience. As a recruiter, the job isn't finished until the driver has officially started, and retention is a key measurement of recruiter success. To improve retention rates, hold the recruiter accountable for not just hiring the driver, but also for retaining them. By setting goals and providing incentives along each stage of the hiring process, your recruiters will ensure that they will create an open channel of communication with the candidate that should exist even after they've been hired. 
Metrics like volume of candidates attending an orientation, the speed of the process, and the amount of support they receive along the way are important markers to monitor and adjust when creating recruitment strategies.  
Setting goals for driver recruitment can help you achieve the results your company is looking for, but it's important to keep one more thing in mind. Every step of the recruitment process should be measurable and able to be evaluated at any time. This means that recruiters should do a good job at marking where candidates are in the process, and management should organize and remain up to date on qualitative and quantitative results.  
Here at Drive My Way we're always looking to learn more about the best recruiting processes and hiring strategies. If you have any ideas for us, please reach out on our  social media so we can continue learning!  
https://hiring.drivemyway.com/wp-content/uploads/2023/07/blog-photo-12.png
630
1500
Elijah Larson
https://www.drivemyway.com/wp-content/uploads/2019/03/Untitled-1-3.png
Elijah Larson
2023-07-27 15:32:01
2023-07-27 15:32:36
Hiring Drivers? Read These 5 Important Tips to Set Realistic Recruiting Goals