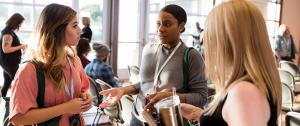 One of the best ways to learn about evolving industry trends and technologies, network with like minded professionals, and promote your company is by attending a trucking conference. There are many options to choose from throughout the year, each offering unique benefits for attendees.  
Most conferences take place over the course of a few days and can be a large investment of time and money. This means that it's important to start planning early and discuss your options with your employer. Many 2024 conferences have already opened for registration, so it's time to mark your calendars and start practicing your elevator pitch!  
One Last Conference in 2023
Most conferences take place earlier in the year, but that doesn't mean there aren't any happening this December. It might feel a little last minute, but registration for the 2023 Veteran Ready Summit is still open, providing you a great way to end the year on a productive note.  
2023 Veteran Ready Summit (Dec. 13-16, Washington D.C.)
The goal of this annual conference is to bring together leaders from across the country to discuss, brainstorm, and learn more about creating a culture of support for veterans entering the trucking industry. Attendees will be able to network with experts in the field and receive the advice and tools necessary for creating military hiring programs while becoming a "veteran-ready" company.  
More information on the conference and how to register can be found here.  
Conferences Happening in 2024
There are many transportation conferences taking place in the new year, so get ahead of the game by planning which 2024 conferences you want to attend now. Below is a list of some of the largest conferences in the United States, listed in order of occurrence.  
Texas Transit Association State Conference, Expo, and Roadeo (March 15-20, San Antonio)
This TTA conference offers a wide range of benefits, including informative speaker sessions, ample networking time, a full expo of venders and vehicles, and even the Texas State Roadeo competition which features 35 and 40 foot bus and cutaway/body-on-Chassis divisions as well as maintenance teams.  
Registration is not yet open, but space often sells out quickly so be sure to keep an eye on all conference news here.  
Mid America Trucking Show (March 21-23, Louisville, KY)
There's a reason this conference's tagline is "experience the entire industry." With over 850 exhibitors, 58,000 attendees, and more than 40 featured events, this is a conference you definitely don't want to miss. Best known for its extensive, interactive exhibit displays, the Mid America Trucking Show brings together the best of the best in the trucking industry to show that the future really is now.  
You can find more information on registration and how to become an exhibitor here.  
Truckload Carriers Association Truckload Conference (March 23-26, Nashville)
Join a crowd that's likely to be more than 1,500 people next year at the annual Truckload Carriers Association conference. With an exhibitor hall featuring over 120 game changing products, this conference is a great way to meet industry experts and promote your company's brand.  
Registration recently opened and space is sure to fill quickly, so be sure to check out more information here.  
National Private Truck Council Annual Conference and Exhibition (April 21-23, Orlando, FL)
NPTC is the national trade association dedicated exclusively to representing private motor carrier fleets. Join over 1,300 attendees and 185 exhibitors for a chance to network with and learn from other private fleet professionals. This annual conference features educational sessions led by top industry professionals, a world-class exhibit hall and 20+ workshops showcasing the latest, most innovative and best ideas in private fleet management.  
For more information and how to register for this year's conferencee, click here. 
Safety, Security, and Human Resources National Conference (April 25-27, Phoenix, AZ)
Hosted by the American Trucking Association, this is the only conference in the nation that features three main educational tracks focused on the latest in trucking safety, security and human resources. With over 450 attendees, the conference offers a chance to network and connect with colleagues while attending important educational sessions and a spacious exhibit hall.  
For more information on registration and what to expect at this year's conference, click here.  
2024 Walcott Truckers Jamboree (July 11-13, Walcott, Iowa) 
As one of the most fun celebrations of the trucking industry nationwide, this annual event put on by Iowa 80, the world's largest truck stop, is a must-see. While it's not a traditional conference, over 175 exhibits make this a great destination to discover innovative technologies and see how far the industry has come while perusing the antique truck display. There's also an Iowa Pork Chop Cookout, live country music, and even a truck beauty contest! What more could you ask for? 
Admission and parking are free, but be sure to check out more information here.  
American Trucking Associations Management Conference & Exhibition (Oct. 12-15, Nashville)
The annual ATA Management Conference is the premier event bringing together industry leaders from across the nation to discuss and influence the future of commercial truck driving. Each year, this conference offers attendees a chance to learn about evolving industry trends, voice their opinions on legislation affecting commercial transportation, and experience the newest technologies at the expansive MCE exhibition hall.  
For more information on the ATA Management Conference and similar events, click here.  
Accelerate! Conference & Expo (Nov. 5-8, Dallas, TX)
Hosted by the Women In Trucking Association, this fast-growing conference offers an annual chance to learn more about current transportation and supply chain issues and how to create space for women and other underrepresented groups in the trucking industry. Featuring more than 70 educational sessions and an extensive exhibition hall, this unique conference provides all the tools for growth and success in this dynamic industry.
 
You can find more information on the 2024 conference and how to register here.  
These are only some of the many conferences taking place across the nation in 2024. Local, regional, and national conferences all offer distinct opportunities to learn from like-minded individuals who are pushing the boundaries of the trucking industry each day.  
If there's a conference you believe we left out, or if you want to learn more about other industry opportunities in 2024, be sure to reach out to us on social media or read more of our Employer Blog!  
https://hiring.drivemyway.com/wp-content/uploads/2023/12/blog-photo-5.png
630
1500
Elijah Larson
https://www.drivemyway.com/wp-content/uploads/2019/03/Untitled-1-3.png
Elijah Larson
2023-12-07 18:11:40
2023-12-07 18:12:04
Upcoming Conferences to Plan For in 2024