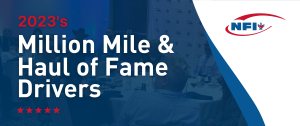 Each year, NFI Industries recognizes and celebrates its drivers across the country who have gone above and beyond to reach impressive industry milestones.  
At events held nationwide throughout 2023, NFI celebrated 25 drivers who have driven at least one million accident-free miles as the most recent inductees in its Million Miles recognition program. Six drivers were also honored with a spot in the NFI Haul of Fame wall in Camden, NJ. This title is only given to drivers who have driven two million safe, accident-free miles or tenured 20 years with NFI.  
NFI takes great pride in all of this year's recognized drivers, saying: "It's truly an impressive accomplishment to travel accident-free for one million miles and two-million miles, and it is a direct result of commitment to safety day in and day out. This achievement exemplifies the dedication each of these drivers have to being safe. The focus required to earn this honor is truly inspiring." 
Terminal managers, directors, and vice presidents from NFI joined the drivers and their selected guests to spotlight the honored drivers at celebratory events held in multiple locations throughout the country. At each banquet, NFI terminal managers gave speeches to honor their drivers and the impact of their achievements, and the drivers received awards in recognition of their hard work and accident-free driving records. 
These events are not the only times that NFI makes safe driving a top priority. NFI's Behavioral Safety Team encourages safe driving practices in all of the carrier's drivers by working with different operations on safe behaviors to start from day one. NFI also rewards drivers with quarterly safety bonuses to ensure drivers maintain these core company values year round.  
However, reaching such milestones is no easy feat, and these drivers had some advice for those starting out in the field or looking to improve their safe driving records.  
"Don't try to cut corners," said Haul of Fame Driver Robert D. of Cedar Rapids, IA. "Never be in a rush. If the circumstances require you to go slow, you can't worry about cars behind you getting upset. Your responsibility is to get back home safely." 
"Remain patient, and plenty of rest," said Million Miles Driver Gregory N. of Minooka, IL. "No load is worth your life or someone else's." 
When NFI asked the drivers what legacy they wanted to leave when they retire from trucking, their responses revealed the dedication and thoughtfullness required to achieve this kind of impressive record.  
"I'd want my legacy to be that I was a positive person, worked hard, and didn't complain," said Million Miles Driver Michael K. of Wilmington, NC.  
"I'd want mine to be that I was a good, hard working driver and a professional coach," added Million Miles Driver Edward D. of Plainfield, CT.  
Here are the names of the rest of these impressive drivers who work hard to make our roads a safer place.  
2023 Haul of Fame Inductees:
Terrence E. (Inducted in Chicago)
Bernard S. (Inducted in Chicago)
Randall R. (Inducted in the Southeast)
Russell H. (Inducted in the Northeast)
George K. (Inducted in the Northeast)
Peter L. (Inducted in the Northeast)
2023 Million Mile Drivers (Inducted at Chicago Banquet)
Thomas C.
Steven C.
Marty C.
Robert Davis
Robert Dickinson
Casey D. 
Michael F. 
Lenora H. 
Gregory N. 
2023 Million Mile Drivers (Inducted at Southeast Banquet)
Randall B.
Jawan B.
Bobby D. 
William S. 
Howard R. 
Lowell S. 
Eugene C. 
Michael K. 
Richard R. 
2023 Million Mile Drivers (Inducted at Northeast Banquet)
Edward D. 
Juan D. 
Henry P. 
James W. 
Jeffrey J. 
2023 Million Mile Drivers (Inducted at California Banquet)
Elias O.
Larry D. 
Congratulations to all of these drivers for their amazing accomplishments, and all the drivers nationwide with impressive safety records that are making our roads safer! 
https://hiring.drivemyway.com/wp-content/uploads/2023/10/Million-Mile-1500-x-630-px.png
630
1500
Elijah Larson
https://www.drivemyway.com/wp-content/uploads/2019/03/Untitled-1-3.png
Elijah Larson
2023-10-25 19:28:59
2023-10-25 19:29:40
NFI's 2023 Million Mile & Haul of Fame Drivers Celebrated Across the Nation