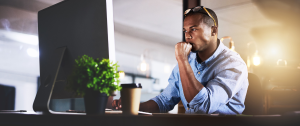 Truck driver recruiters have so many responsibilities, sometimes the job can feel overwhelming. Dealing with many moving parts and competing priorities, such as monitoring DOT and company standards, staying up to date with current marketing trends, and knowing where to look and how to screen for quality candidates, it's important to focus your recruiting efforts and know what's worth your time.  
Over the years, truck driver recruiting strategies have also changed greatly. It can be difficult to know what new technology or approach could save you hours of work and increase your reach to a larger pool of candidates, or what could just add more stress to your plate. Wondering how to focus your recruitment efforts and find efficient strategies that still yield effective, quality results? Keep reading for Drive My Way's 3 key tips to make the most of your time as a driver recruiter.  
Know What's Working, and Change What Isn't
One of the most important questions a recruiter should ask themselves often is what is the Return on Investment (ROI) of your efforts? This is the easiest way to tell on paper if a strategy is working, and it's essential for analyzing expenses and creating a budget. Having measurable results is important for deciding which efforts you should continue, and which are wasting time and money.  
Looking at your metrics can help you narrow down your sources and determine which are the smartest investments for your carrier. It's important to know which sources yield the highest quality candidates, instead of just the highest quantity.  The amount of candidates making it through the phases of the hiring process, driver turnover rate, and driving safety records are important success markers that reflect the quality of your candidate pool.  
Have an Evolving Strategy in Place
Creating a concrete recruitment strategy to rely on is one of the best ways to alleviate stress in the day-to-day job tasks of a truck recruiter. How do you find candidates? What's your pre-screening process? How do you measure how far along candidates are in the hiring process?  
Knowing the answers to these questions can also help you tell what parts of your job you need to focus your attention on, and which are running smoothly. If you're facing trouble with something like driver application abandonment, prioritizing finding a solution will save you time down the road, and likely help out in other areas of the recruitment process.  
Touchpoints are also an important part of a good recruiting strategy, and will keep you feeling organized with your time and efforts. Touchpoints are any point of contact with potential candidates, and they help improve recruitment and retention by creating a personalized, effective experience for both sides. Having a strategy in place for when and how you make contact will save you time and make a difference in the quality of your recruiting efforts.  
Leave Room for Growth
Finally, it's important to look to the future. Creating goals and planning for future growth is a great way to ensure that you remain focused on what matters while building upon current success. Leave room for innovative ideas when creating your budget, while maintaining the strategies that are proven to work best.  
Planning for future needs also helps you when you run into unexpected problems. Strategies like creating a driver waitlist or considering hiring international drivers could help you manage peak hiring periods. Are you planning to add new regional locations? Are you expanding into new segments? If you have plans for growth on the horizon, you'll need more drivers. Plan accordingly! One of the best ways to do this is to look at your carrier's long-term strategy overall, so you can plan for where you're headed.  
Here at Drive My Way we're always looking to learn more about the best recruiting processes and hiring strategies. If you have any ideas for us, please reach out on our  social media so we can continue learning!  
https://hiring.drivemyway.com/wp-content/uploads/2023/10/blog-photo-41.png
630
1500
Elijah Larson
https://www.drivemyway.com/wp-content/uploads/2019/03/Untitled-1-3.png
Elijah Larson
2023-10-26 15:05:11
2023-10-26 15:08:18
3 Tips to Focus on What's Really Important as a Truck Driver Recruiter