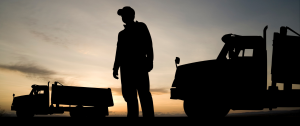 If the ongoing  shortage of truck drivers  has made one thing clear, it's that recruiting and retaining drivers is more important than ever. Hiring, training, and retaining dedicated drivers is crucial to finding success in today's economy, and it all starts with the recruitment of the right candidates for the job.  
Struggling to attract talent or recruit them into your organization? Wondering how to meet the demands of the market and stay competitive in an ever-changing industry? These 4 tips are sure to help you set your organization up for success when recruiting truck drivers.  
Make Your Marketing Driver-Centric
In today's world, drivers look to the regular marketing channels to find information about prospective companies and fleets. This means that good recruitment strategies begin with strong marketing and carefully curated content.  
What kinds of content currently exist on the company website and social media pages? Information about how successful a company is won't be of much interest to a potential employee. It's important to highlight driver-centric content, or the kinds of benefits a driver can receive from your company.  
Ultimately, a driver wants to know that the company will treat their drivers with care and provide the benefits they are looking for.  
Highlight any wellness programs or culture initiatives that differentiate your company from the competition. Providing information on schedules, work-life balance, and fleet amenities can help drivers see how much you care. Including testimonials from current, satisfied employees builds trust and offers the real insight drivers are looking for.  
Remember, drivers are always wondering "what can they do for me?" Driver-centric marketing will leave no doubt in their mind that you're the right company for them.  
Target the Right Audience 
Before you start moving prospective drivers through the recruitment pipeline, you have to be sure you're selecting from the best pool of candidates for the job.  
Many driving fleets have very specific needs and requirements that not all candidates are ideal for. Knowing how to target the right segment of candidates will make the process more efficient and effective.  
Databases allow you to select drivers based on driver type, years of experience, haul experience, geographical location, and other factors. Focusing on any of these segments early in the recruiting process can save you time and energy. It will also increase the overall effectiveness of the company. By not optimizing this stage of recruitment, you could potentially lose hours chasing leads which were never well suited for that particular fleet or job.  
If you don't have an easy or effective way to browse data on prospective drivers, Drive My Way can help you target the specific segment of drivers needed for your particular situation.  
Use the Latest Digital Recruiting Methods
Driver recruitment methods are constantly changing, so it's important to stay up to date with the latest and most effective strategies. Social media continues to evolve as a tool, and drivers use these platforms to research companies, read comments, and evaluate employers. Since drivers are often on the road, they'll use their mobile devices to search for job leads.  
When viewers like, follow, share, or comment on your content, it can increase the audience exponentially. But advertising job postings on social media channels isn't enough to attract the talent you're looking for.  
Post engaging content on your platforms which drivers will want to view. In addition, search engine optimization of your content will ensure that your website is receiving as much traffic as possible. Use software like Google Analytics and Google Keyword Planner to optimize your post by including trending phrases and words.  
Applications should be short and mobile-friendly to avoid any bottlenecking in the recruiting process. Drivers often don't have enough time to fill out a long application, so a shorter version with only basic information required is best initially, with the option to complete the remaining components later.  
It's helpful to stay on top of the latest digital tools for recruiting and analyze which strategies could be useful for your company.   
Re-engage Old Leads
In the trucking industry, the unusually high turnover rate of drivers poses a unique challenge for recruiters.  
One of the best ways a recruiter can continually bring people into the pipeline is by re-engaging old leads or cold leads.  
Many drivers who could be a perfect fit but were previously unavailable or chose to drive for a different fleet might be available and looking for opportunities again. Leads and prospects that have gone cold or did not convert into driver status should not be forgotten. Instead, keep them in mind for the future and maintain a connection.  
Drip marketing, engaging content on blogs, social media, and newsletters are all great strategies to stay connected to old leads and assure that your fleet remains fresh on their minds when they're considering a new employer.  
While driver recruiting in the trucking industry can be daunting, many of the unique challenges you face can be combated by these solutions. Master these four tips to experience recruiting as it should be: easy, effective, and rewarding.  
https://hiring.drivemyway.com/wp-content/uploads/2023/06/blog-photo-3.png
630
1500
Elijah Larson
https://www.drivemyway.com/wp-content/uploads/2019/03/Untitled-1-3.png
Elijah Larson
2023-06-21 15:16:22
2023-06-21 15:16:34
4 Tips for Recruiting Truck Drivers