Truck drivers are constantly bombarded with information by companies about why they are great to work for. They also hear about companies through their reputation with other drivers. Both seasoned drivers and rookies want to hear about the best truck driving companies to work for. The top companies have some of the best salaries and compensation, benefits, and other perks. But more importantly, they also prioritize home time, have a strong company culture, and are known for respecting their drivers.
Ultimately, the best truck driving companies to work for are the ones that suit the individual needs of drivers, including that of region, type of runs and hauls. Nevertheless, there are some companies that consistently rank high, regardless of preferences. Here are 6 of the best truck driving companies to work for in 2019, in no particular order.
Walmart Trucking
Walmart has their own private fleet and pay their drivers extremely well. The average full-time driver with Walmart earns about $86,000 per year and works 5.5 days a week. Walmart's benefits include medical, dental, vision, pharmacy, and life insurance. Drivers also have the opportunity to enroll in a 401(k) plan and a stock purchase plan. Since Walmart is looking to hire the best of the best, drivers need considerable experience before Walmart will consider hiring them. Apart from a great compensation package, the company makes sure drivers are home once a week and get reset hours off the road. They pay for activity, mileage, and training, and drivers won't have to load and unload freight. Walmart's private fleet has one of the lowest turnover rates in the country and for good reason.
Old Dominion Freight
Old Dominion has been around for over 85 years is the official freight carrier of Major League Baseball (MLB). They have club partnerships with many of the MLB teams, and serve the West Region, Midwest, Northeast, Southeast, and Gulf Region of the country. Old Dominion consistently gets high ratings from drivers and Glassdoor. According to Glassdoor, the average salary for long-haul drivers is $82,354 per year. Old Dominion offers medical, dental, vision, and life insurance. In addition to a 401(k) plan, drivers have the option to enroll in employee wellness programs and employee assistance programs. The company has been ranked best LTL National Carrier in 2017 (it's 8th consecutive year) and received the US EPA 2017 SmartWay Excellence Award (it's 3rd consecutive year). Paid time off includes both vacation days, sick/personal time, and an addition paid "birthday holiday".
NFI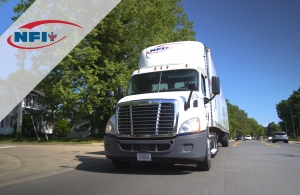 NFI is a fully integrated supply chain solutions provider headquartered in Camden, NJ. At NFI, truck drivers benefit from dedicated, local, and regional routes to give a variety of home time options with predictable schedules, consistent weekly pay, and career pathing opportunities. Drivers become part of a team that helps move goods the world relies on every day. NFI values family, integrity, safety, customer, teamwork, and social responsibility.
Ward Trucking
Ward Transport and Logistics cover the mid-Atlantic region and cover through Truckload, Flatbed, Reefer, Expedited, and Containers. They offer Less than Truckload (LTL), Truckload (TL), Logistics (3PL), and Brokerage services throughout the US, Canada, Puerto Rico, and Guam. According to Glassdoor, average salary for delivery drivers is $32,078 per year, but for truck drivers is $50,129. Ward will offer medical insurance for eligible employees and dependents with premiums discounts based on years of service with Ward. Dental and vision plans, along with flexible spending accounts are also available for eligible employees and dependents. Ward also boasts an employee wellness program, employee assistance program with professional counselors, and a personal health partners (PHP) program to assist with medical questions, claims issues, and treatment options. The company will cover paid holidays and up to five weeks of vacation per year.
Melton Trucking
Driver development and support for students are hallmarks of Melton Trucking. The company welcomes recent CDL school graduates and drivers who have not had any over-the-road driving experience. Each new driver takes part in the Driver Development Team to transition into the job and lifestyle. Melton also offers a Pre-Hire and Tuition Reimbursement Program for those who don't yet have a CDL-A license to transition into a CDL certification program.
Melton offers competitive compensation. There is a $1500 sign-on bonus and referral bonuses ranging from $250-$1000. Melton will offer performance incentive bonuses as well, including for tarp, over-sized loads, layovers, and clean DOT inspections. According to Glassdoor, average salary is $52,595 per year for flatbed drivers, and $53,573 per year for OTR truck drivers. In addition to medical, dental, vision, and short-term disability insurance, Melton offers a 401(k) plan and employee assistance program. The company seems to value driver preferences as there is a pet and rider program and profit-sharing programs. Melton also guarantees that all employees will be at home on Christmas Day in addition to 6 holidays a year, and 1-3 weeks of vacation.
Watkins & Shepard Trucking
Watkins & Shepard (now a subsidiary of Schneider) offers many kinds of trucking including over-the-road (OTR), Team Driving, Regional, Intermodal, Tanker, LTL, and Straight Truck. They mostly transport home furnishings and over-dimensional goods including products from overseas. OTR drivers for Watkins & Shepard, can expect about an average of 600 miles per haul. Regional drivers on the other hand will stay close to home and have more consistent routes and freight. According to Glassdoor, the average salary for truck drivers is $61,956 per year. Benefits include medical, dental, vision, and life insurance, as well as accident insurance. After five years of service to Schneider, driver associates are admitted into the Advantage Club which allows attending sports events like NFL games or NASCAR races. The company prioritizes health and safety, boasting a CDL defender plan and family legal plan as well as performance bonuses based on safety.
https://hiring.drivemyway.com/wp-content/uploads/2019/05/aerial-photography-aerial-shot-aerial-view-2231742.jpg
3640
5464
Kerry Marinchick
https://www.drivemyway.com/wp-content/uploads/2019/03/Untitled-1-3.png
Kerry Marinchick
2019-06-18 21:13:50
2021-01-13 20:34:58
6 Best Truck Driving Companies to Work For