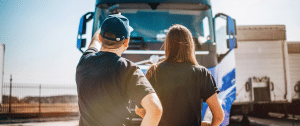 Truck driving is a career that is not for the faint of heart. With long hours, physical demands, and the stress of working on the road, it goes without saying that truck drivers are some of the hardest workers out there. Not only is truck driving a strenuous job, but it is also a vital one. Without the dedication of America's truck drivers, communities across the nation would go without necessary goods; from food to clothing, truck drivers are the cornerstone of transportation in this country. For this and many other reasons, we honor our truck drivers every year during National Truck Driver Appreciation Week.  
History of National Truck Driver Appreciation Week 
According to the American Trucking Associations (ATA), National Truck Driver Appreciation Week is a time for Americans to show gratitude to the millions of truck drivers who make sure goods are delivered to communities across the country. This program is an annual celebration that was started by the ATA in 1988 to recognize the vital role that truck drivers play in our supply chain and economy. To put it into perspective, at least 80% of communities throughout the U.S. rely on trucks to meet their freight transportation needs. This year, National Truck Driver Appreciation Week is September 10th –16th.  
Best Ways to Celebrate Your Drivers During National Truck Driver Appreciation Week 
There are many wonderful appreciation ideas for celebrating your drivers during National Truck Driver Appreciation Week. From bonuses to free lunches, these gestures go a long way in showing gratitude for your drivers. Some other creative ways to celebrate your drivers include:  
Ask Your Drivers: One of the best ways to celebrate your team is asking for their feedback. By having an open dialogue with your drivers, you can see the areas where the company is excelling, and the areas that could use improvement. Perhaps your drivers would benefit from the use of new technology. Do you have a bonus structure in place? Even new seats in their trucks could go a long way in showing that you value your drivers' well-being. By asking them what would make their job more comfortable, you not only are able to show appreciation, but also demonstrate that their opinion has an impact on the company as a whole.  
Survival Kits: Way cooler than a gift basket, survival kits are a creative way to put together items that your drivers can use while they are on a haul. From healthy snacks to new tech, a truck driver survival kit is a fun gift that shows your team that you value their hard work and are dedicated to providing them with tools they need to continue to do their job well.  
Family Time: Truck driving is demanding physically, but it is also draining emotionally. Many drivers spend weeks at a time away from their families, which is tough. A great way to show appreciation for drivers is to include extra time with family. Whether that is an extra day off, family company events, or the option to bring your family on the road, these gestures mean the world to drivers. This story, shared on Healthy Trucking of America, highlights the ups and downs of having a parent that is an OTR driver. By ensuring that your drivers have a healthy work-life balance and plenty of time to spend with family, you can not only increase driver retention, but show your team that you genuinely care about them having quality time to spend with their spouses and children.  
Showing Gratitude for Your Drivers Year-Round 
While showing your gratitude to your drivers during National Truck Driver Appreciation Week is a wonderful gesture, year-round appreciation is an important tool for companies to invest time and energy into, so they can increase driver retention. For additional truck driver appreciation ideas, download our Quick Guide to Truck Driver Appreciation.  
What are some ways your company shows appreciation for your drivers during National Truck Driver Appreciation Week, or year-round? Connect with us on Facebook, LinkedIn, or Instagram; we would love to hear from you!  
https://hiring.drivemyway.com/wp-content/uploads/2023/07/blog-photo-11.png
630
1500
Emily Bihm
https://www.drivemyway.com/wp-content/uploads/2019/03/Untitled-1-3.png
Emily Bihm
2023-07-20 17:39:30
2023-07-20 17:39:50
Best Ways to Celebrate Your Drivers During National Truck Driver Appreciation Week