The Quick Guide to Truck Driver Appreciation
Truck driver recognition is a great way to show your drivers that you appreciate everything they do.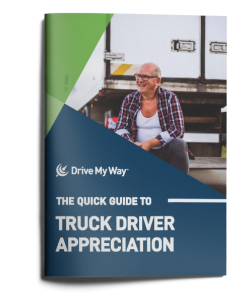 About the Quick Guide
Truck driving isn't just a job, it's a lifestyle. Top drivers take pride in their jobs and expect respect for their hard work. Driver appreciation is an important retention tool because drivers stay with companies that recognize their value.
Showing appreciation doesn't have to involve a huge financial commitment or extravagant gifts. Often, the most meaningful gestures are words or actions that demonstrate a heartfelt appreciation of your drivers. 
To go above and beyond, make it a family affair. Send a thank you note to drivers' families or invite everyone for a company cookout. However you choose to do it, get to know your drivers, and show your appreciation for their efforts!