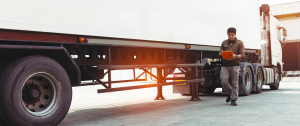 Truck driving is one of the most dangerous jobs in America. In 2017, workers in the trucking industry experienced more fatalities than any other occupation. A successful fleet safety program minimizes the risk of crashes due to unsafe driving practices and can safeguard employers against costly legal liabilities.  
Building a culture of workplace safety starts at the top, but commitment and goal setting should be seen on all levels of an organization. Many accidents are preventable, but only if drivers and management receive the correct training, resources, and encouragement.  
Every carrier is different, so it's best to create a fleet safety program unique to your company. Make sure to keep your program up-to-date, and maintain consistent messaging across digital and in-person channels.  
Keeping your drivers safe, healthy, and happy is key to improving driver retention and boosting efficiency across the board. Although there's no way to guarantee an accident won't happen, a fleet safety program is the best strategy to protect your drivers and avoid false claims and damaging lawsuits. These 5 tips can help you establish a successful fleet safety program that keeps your company ahead of the curve.  
Carefully Screen and Select Team 

 
Set yourself up for success by establishing clear hiring standards and a consistent screening process. With the ongoing driver shortage, you might be tempted to reach out to drivers you might otherwise deem "risky" or inexperienced for the job. Although this might seem like a short term solution, consider the FMCSA's estimate that the average cost of a commercial truck accident with just one injury is nearly $150,000.  
Make sure to identify every driver in the fleet. Even drivers who own or rent their personal truck can be a liability and should be included in company assessments. It's also important to recognize each driver's ability and level of exposure. This way, you can ensure that every driver receives the training and resources that will make them a strong asset to the team.  
Identify Existing Problem Areas

 
It's important to manage accidents as they occur to mitigate legal fees, but it's even smarter to get ahead of the problem. Review your most recent safety related incidents, such as citations, claim payouts, or accidents. This step is helpful for setting goals and understanding what aspects of your fleet safety program might require the most planning.  
Some carriers find it helpful to establish an accident review group. Discussing what occurred and where responsibility lies can be beneficial when determining if your company is going to be liable for penalties or fines. This is also a great time to provide feedback and training to prevent similar accidents in the future!  
Establish Written Policies and Procedures 

 
Create accessible and comprehensive policies and procedures to set clear expectations. Every policy should emphasize driver safety over everything else, whether regarding driving time restrictions, drug and alcohol testing, or safety training.   
Policies on incident reporting, license checks, and scheduled vehicle maintenance are preventative measures that will keep your team on the same page. One-on-one or team meetings can also help to hold drivers accountable and aware of company policies.  
Establishing plans with a specific timeline is a great strategy to track employee achievements and maintain success in a long term program. Key milestones create attainable goals that keep a team cohesive, informed, and engaged.  
Consider the Newest Technology 

 
Investing in management technology, such as GPS-enabled or video monitoring software, might be one of the most important steps in enhancing fleet safety. Although the merits of certain technology, like dash cams, is still debated, software has proved effective in protecting the safety of drivers and carriers.  
Telematics are increasingly being used by fleets to monitor and provide insights into driver and vehicle operation. Telematics utilize internal computer systems to gather and report data on speeding, harsh braking, distracted driving, and more.  
Reward Drivers with Incentive Programs

 
Positive reinforcement is one of the best ways to retain drivers and effectively accomplish safety goals. Employees that feel encouraged and recognized will work harder and be more receptive to program changes. Incentive programs are one of the best ways to support drivers and create a fun and engaging workplace.  
To reward increased fleet safety, incentives like bonuses, company recognition, more vacation days, or merchandise can go a long way. Providing incentives upon the completion of specific goals encourages more participation, and friendly competition is a great way to get the whole team involved.  
Creating a fleet safety program is an important step in mitigating the effects of safety-related incidents on the road. However, no program is one size fits all. It's important to consider your company's history, who your drivers are, and what strategies would be most beneficial.  
Is there a safety tip you've noticed has had a great impact on your fleet? What about something you've learned to avoid? Connect with us on social media to let us know your best safety tips and advice!  
https://hiring.drivemyway.com/wp-content/uploads/2023/07/blog-photo-7.png
630
1500
Elijah Larson
https://www.drivemyway.com/wp-content/uploads/2019/03/Untitled-1-3.png
Elijah Larson
2023-07-03 23:49:08
2023-07-06 15:53:25
5 Key Elements of an Effective Fleet Safety Program