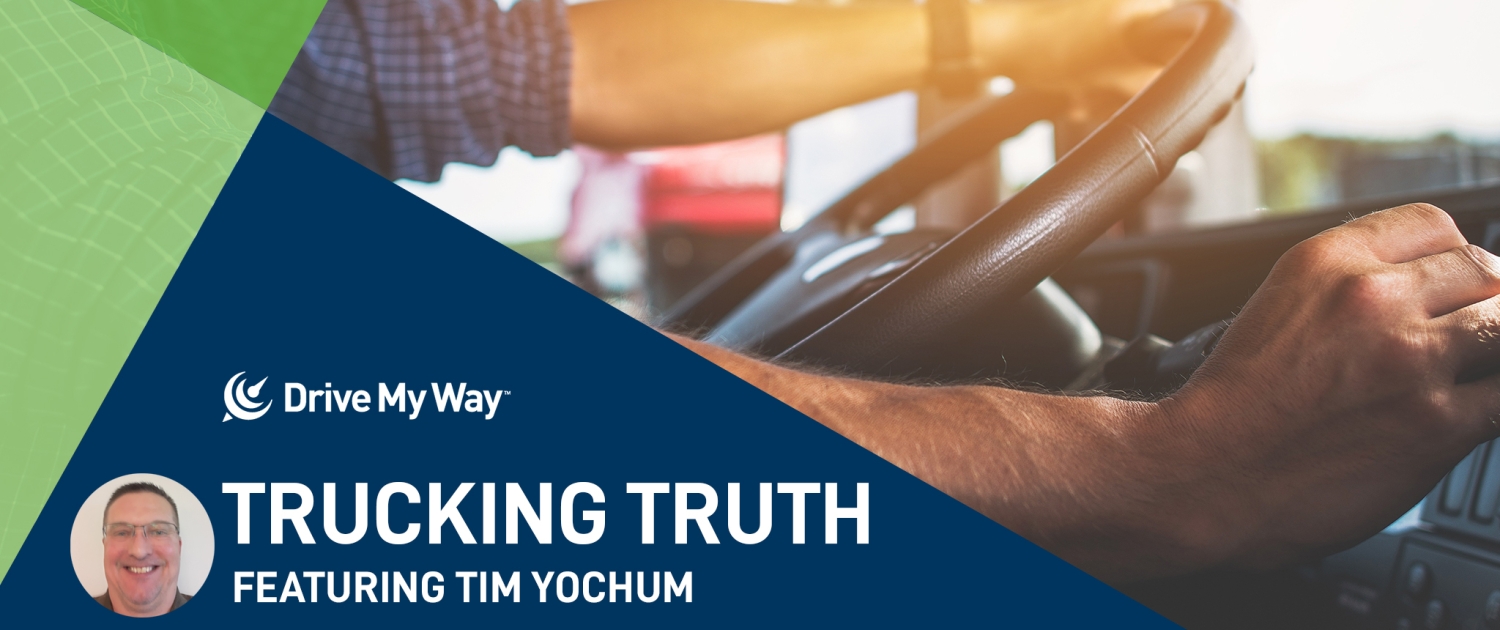 Trust is one of the most important parts of being a successful driver recruiter. Drivers want to know that the person they're working with is looking out for their interests as well as those of the company they work for. But, for many recruiters, building that kind of trust is easier said than done.  
Driver My Way's President and CEO, Beth Potratz, spoke with Tim Yochum, Director of Recruiting with the McCoy Group, parent company of Drive My Way's client, Foodliner. Tim has close to 40 years of experience in the trucking industry and now uses that to bring qualified drivers into his company. He spoke about how he's able to build trust with candidates by sharing his work experience with them, how he trains and motivates recruiters, and the KPIs that Foodliner uses to measure recruiting success. 
What led you to working with Foodliner?
I grew up on a farm in southern Iowa. I had to leave college my junior year to help my dad on the farm, who was having some health issues. I didn't end up going back to school, but got a call from a friend who asked me if I'd like to work the Christmas season with UPS. I didn't know anything about UPS but could use the extra money, so I said yes. I worked that whole Christmas season, which turned into a driving job. A few years later, I got into a management position and finished my career with UPS as an Operations Manager in Denver, Colorado.  
In 2007, I left UPS and came to the McCoy Group to be the General Manager of our Hazmat Tanker Division. I ran that for a few years, and that turned into my current role with recruiting.  
How has your background in transportation helped you recruit drivers?
I've had a lot of different jobs over my 38+ years in transportation, whether that be driving, doing sales and marketing, or managing special projects. I think having that knowledge on different aspects of the industry has helped me connect with drivers.  
I talk to a lot of drivers throughout the week. Every now and then, I'll get one who says, "Oh, you're just a recruiter." And I say, "I am, but let me give you a little background on what I've done." Once I give them some quick bullets on my experience, that attitude softens up a little bit. They feel comfortable that I'm going to be honest with them.  
To that point, you have to be 100% up front and honest with drivers about every aspect of the job, even the unattractive parts. Discussing things like difficult schedules or challenging customers is important because you need to make sure it's a good fit. We can't keep our turnover at 40% or below by choosing a poor fit. 
I was talking with an applicant the other night who was asking questions about what the job is like day-to-day. I told him if he really wanted to know, I could get him in contact with one of our current drivers. I connected the two, and they had a long conversation about the position. It turned out that it wasn't the right fit for the applicant, but that's why I'm glad we did it. It's all about getting the perfect fit on both sides. 
How do you prepare your driver recruiters who don't have experience in the transportation industry?
Just being in the same area as my recruiters and taking calls from drivers in front of them really helps. Letting them hear the way I answer the phone, respond, and talk to drivers sets an example for them that they can follow.  
Another thing we've done is create spreadsheets that list almost every detail of all our terminals. This includes who's the terminal manager, where it's located, who are the key customers, average length of haul, any weekend work, and a lot more. New recruiters can pull that up and have about 80% of what they need to talk about. The other 20% comes in time from experience. 
What are some of the things you do to incentivize and motivate your recruiting team?
We don't have an incentive such as "if we get x hires you get x dollars or if the driver shows up to orientation, you get a $50 bonus". What keeps the Foodliner team motivated more than anything is that we pay them very fairly and our benefits are great as well.  
Another thing we do is let our recruiters know what the score is. For example, "This is how many applications we have in the process, this is how many are pre-qualified, or we're over our target numbers by X drivers so far." Just keeping these metrics communicated says to the recruiters that we're part of a team working towards a common goal. 
What are some of the KPIs and metrics that you use to measure your team's productivity?
A critical piece is the amount of days a driver's application is in process. Ten years ago, you didn't have the PSP or Clearinghouse report to worry about. Those and other items make applications much longer to process now.  
Also, it used to be normal for applicants to only have two prior employers in the past ten years. Current driver candidates have around eight jobs in the last ten years. That's eight former employers we need to reach out to instead of two. That takes a lot of time, especially since these prior employers aren't that quick at returning reference checks. Legally, they have 30 days to respond, but if you wait that long to pre-qualify a candidate, they've already got a job in another carrier's truck.  
This is why we've loosened up a little bit here at Foodliner to where we'll pre-qualify a candidate before we get all those boxes checked, just so we can give them a conditional offer. This gives them the peace of mind that they have a job with us, while we continue to cross our t's and dot our i's so that we're staying legal. 
We've also become a little more aggressive when helping drivers get through their portion of the process. We'll send them emails or text them about clearinghouse if we don't see that back in a few days just to make sure the process is moving along. If need be, we have a couple people on staff who will call the driver and walk them through the Clearinghouse process just so we can get it done quicker. This is very helpful for drivers who aren't very computer savvy and have never done that before. 
What's one program or initiative that's really helped Foodliner's recruiting efforts?
Foodliner's driver referral program has been very successful. If an employee refers a driver to us, we'll pay that employee $8,000 if the driver stays with us for one year. We even have some drivers with multiple referrals in the system right now. These referrals make it through the application process at a higher rate than applicants from other sources and tend to stay with us longer.  
We've also expanded the program over the years so that anyone at Foodliner who isn't salaried and doesn't work in recruiting or HR can qualify for the referral bonus. Administrative assistants, technicians, and mechanics are all eligible. We just had a diesel technician refer a driver to us. We hired the driver, and the technician is now entitled to that $8,000. 
https://hiring.drivemyway.com/wp-content/uploads/2022/03/TruckerTruthTimYochum.jpg
1024
2048
Reid Smith
https://www.drivemyway.com/wp-content/uploads/2019/03/Untitled-1-3.png
Reid Smith
2022-03-28 20:00:06
2022-04-19 11:50:09
Trucking Truth with Tim Yochum from Foodliner