We had the chance to talk with Aphrodite Reifsnyder, Driver Recruiter with Drive My Way client, ThompsonGas. She shared what she's learned from her time in recruiting, how a centralized recruiting process can benefit hiring efforts, and how she stays motivated as a recruiter.  
How did you get started in the trucking industry? 
I actually never pictured myself working in trucking. After 5 years of working at a bank, I was displaced during a merger. Because of my financial background, a trucking company offered me a position as an inventory coordinator.  
In 2011, after a year of digging my heels in and making waves, another department director recognized my skill set and took me under his wing as a driver recruiter. I was in this role until 2014, when I took a pricing analyst position for a few months. I soon found that I missed interacting with the drivers and serving as a bridge between drivers and empty trucks. Apparently, I had found my niche. I decided to move back into recruiting, and I've been loving it ever since. 
When you arrived at ThompsonGas, what were your main goals for the recruiting department? 

As the first dedicated driver recruiter for the company, I wanted to establish the basics and build from there. I first had to meet with area directors to see what they wanted from prospective drivers. Next, I had to evaluate the individual 140+ markets we operate in, to see what advertising would make the biggest impact.  
From there, my top 3 goals were to bring in new vendor relationships, integrate a new ATS known as Tenstreet, and focus on military recruiting efforts. 
What are the benefits to a centralized recruiting process? 
Having our recruiting centralized allows for us to focus on big picture concepts. You have a budget, which can help us to negotiate better contracts when covering multiple areas. You seek connections and business relationships that are productive on a big scale but can also provide that local feel to connect with the drivers.  
Most importantly, you have a much better opportunity to share ideas that work in some areas and mirror them in areas that are struggling to fill roles. Being able to have a go-to point of contact for sharing tips on what works in different areas really helps the organization as a whole to collaborate and work together.  
There is no cookie-cutter way to recruiter drivers. Just because you have a centralized focus or department shouldn't mean that it has to produce a generic blanket of ads. Just like the diversity of people is important in the workplace, so is the "diversity" of an advertising and marketing strategy for driver recruitment.  
What have you learned from working with hiring managers across the country?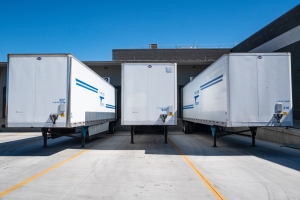 Not only is local insight crucial, but keeping up to date with a market and industry in a state of constant flux is vital. You have to be flexible in transportation and willing to take risks. Bottom line, when I've collaborated with local hiring managers, I've found that I don't have to re-invent the wheel. 
Taking the time to talk with the hiring managers  gives me the unique opportunity to find out what has and hasn't worked in the past. If a hiring manager tells me, for example, that they've tried a certain advertising campaign in the past that didn't produced results, why would I run the same ad and waste valuable time and money? It is far more beneficial to start with something they know has worked and integrate my ideas later.  
As a driver recruiter, what are some of the ways you keep yourself motivated? 
It's very easy to get bogged down with the constant demand that operations and managers place on recruiters. It is often a thankless job in good times, and the first to blame in bad times.  
That being said, I believe it takes a strong individual to do this job and stay refreshed and motivated.  Things that have helped me are finding my work-life balance, flexibility in my daily routine, and recognizing when it's time to make a change to avoid burnout.  
I have been very selective with the types of driver recruiting opportunities and the companies I've chosen to work with. It's crucial to not just find a job for a paycheck but one where you can grow.  
What has made you successful as a driver recruiter? 
I think success comes from the team a recruiter works with as much as it does the individual. I've learned a lot over the past decade. I attribute that to the leaders, coworkers, and drivers I've worked with. I think any successful driver recruiter needs to be well-rounded in communication, creativity, innovation and perseverance. You can't give up when the going gets tough. You have to keep rolling on. 
https://hiring.drivemyway.com/wp-content/uploads/2021/12/TruckerTruthAphrodite.jpg
1024
2048
Reid Smith
https://www.drivemyway.com/wp-content/uploads/2019/03/Untitled-1-3.png
Reid Smith
2021-12-20 13:58:11
2021-12-20 13:58:11
Trucking Truth with Aphrodite from ThompsonGas