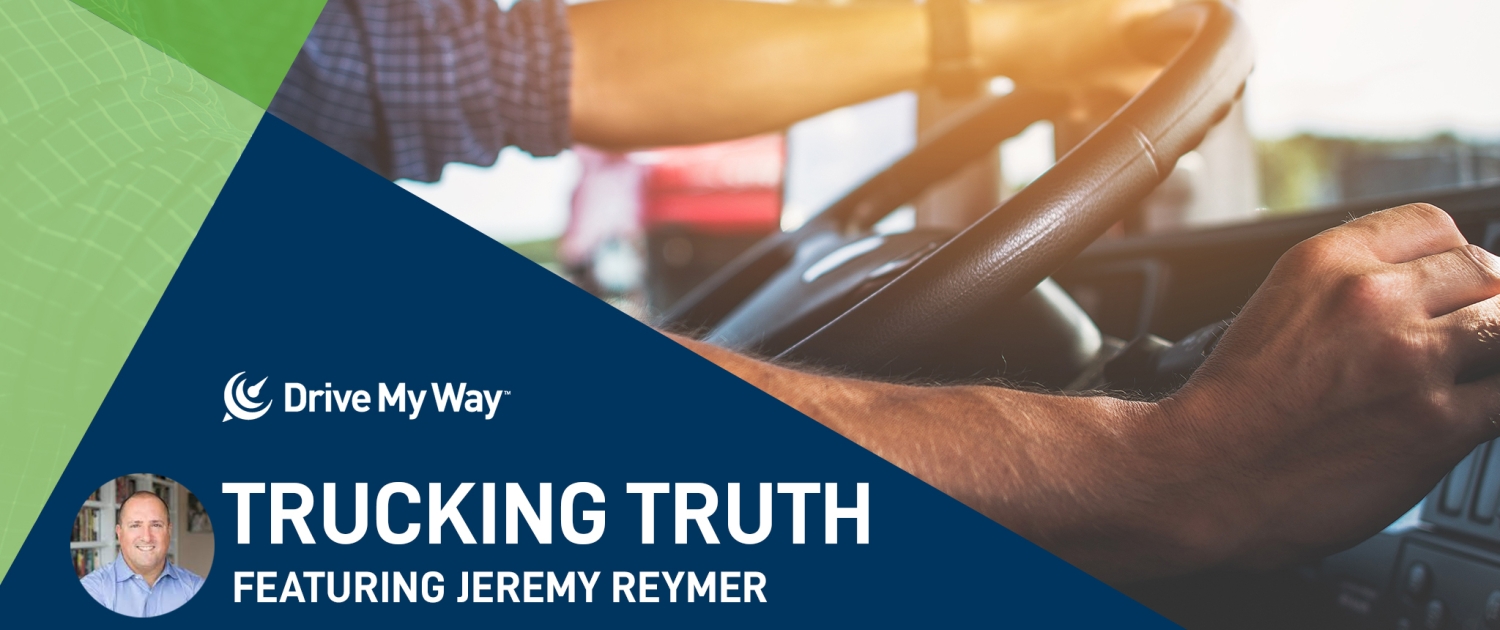 You probably know Jeremy Reymer as the host of Taking the Hire Road, his weekly podcast done in collaboration with FreightWaves. But Jeremy isn't just a podcast host. He has nearly 20 years of experience in the trucking industry, working as both a carrier and a vendor. 
In 2016, Jeremy founded DriverReach, a driver recruiting and compliance management solution, to help address the ongoing challenges with recruiting, qualifying, and hiring CDL drivers. 
Jeremy recently took the time to talk with Drive My Way's President and CEO, Beth Potratz, about what he feels will impact the trucking industry this year, the new administration's commitment to trucking and the labor shortage in general across the country.  
What do you think 2022 holds for the trucking industry?
The pendulum swings wide. When you have a supply chain that's focused on just-in-time freight and you throw a global pandemic on top of that, it throws things way to one side. To overcorrect, we in the industry try to move things way far in the other direction, and that's what we've been doing these past two years. I think this year, we'll start to see things normalize a bit more in terms of driver supply and demand. 
What are some other changes you think will affect the trucking industry this year?
We've already begun to see a significant increase in new entrants into this industry. That includes both new CDL holders and new registered companies (owner-operators) as well. This new supply will help to meet some of that demand, but I think demand will continue to outstrip supply, especially when you factor in drivers being eliminated from the workforce due to the
Drug & Alcohol Clearinghouse. Inflationary pressures, specifically wage inflation, will continue to rear their head as well. 
Another interesting thing is that the industry has drawn a lot of attention from investors over the past few years.  Trucking as an industry proved that it's quasi-recession proof and certainly global pandemic proof.
At the end of the day, it's an industry that everybody needs. It has fundamental stability in turbulent times. So I think that attracted money and interest. Also just recognizing that in general, trucking is behind more innovative or progressive industries, and you can see that there's a lot of opportunities to excel.
What are your thoughts on driver recruiter burnout and the labor shortage in general?
Hopefully, we don't see that as much in 2022 as we did last year. I was listening to a demographer who was talking about the notion we've heard again and again over the past two years that "Nobody wants to work anymore." It seems that way because you can't find people. His point is that there are literally not enough eligible workers to meet demands for labor. When you're just talking about the number of people; Generation X is much smaller compared to Baby Boomers and Millennials.  
By now, the Baby Boomers are leaving or have already left the workforce, but they still need services. Instead of being consumers and workers, now they're just consumers. We're asking a much smaller generation, (Gen X) and millennials to carry the burden of servicing themselves and the Baby Boomers.  
The new administration has put a spotlight put on the trucking industry. What are your views on their plans, and how much do you think will get accomplished?
This administration embraces trucking much like the previous administration. I'm encouraged by elements of the DRIVE Safe Act, including putting a pilot program to allow 18–20-year olds to drive trucks. That's in the works and going to happen. Action exists. Nobody can say that this administration isn't taking action. It's going to take time to get it rolled out, but the path is paved. 
You can find new episodes of Jeremy's podcast, Taking the Hire Road, every week on Apple Podcasts, Spotify, Stitcher, and YouTube.
https://hiring.drivemyway.com/wp-content/uploads/2022/01/TruckerTruth.jpg
1024
2048
Reid Smith
https://www.drivemyway.com/wp-content/uploads/2019/03/Untitled-1-3.png
Reid Smith
2022-01-31 21:10:11
2022-02-01 21:22:13
Trucking Truth with Jeremy Reymer from DriverReach