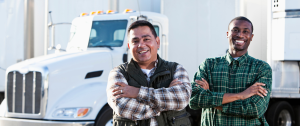 Driver retention is one of the most important, and sometimes most challenging, parts of the recruiting process. With the current driver shortage and evolving recruiting practices, it's more imperative than ever to stay ahead of the curve and keep your drivers safe, satisfied, and engaged.  
One sure fire way to foster a team environment, while improving driver safety and retention rates, is to create a driver mentor program. By pairing new hires with more experienced team members, you can show your drivers that you appreciate their work and are willing to invest in them. In addition, mentoring relationships at any stage of your career can help you achieve personal and professional development goals, such as learning a new skill, strengthening a competency, or becoming more productive, just to name a few. Keep reading to find out why a mentor program could be the best move for your company.  
Mentor vs. Manager: What's the Difference?
You might be asking yourself: what's the point of a mentor when you have a great team of managers on the payroll? Mentors play a less formal role, allowing management to maintain the necessary level of professionalism. A mentor gives new drivers a chance to ask questions they might not be comfortable asking managers, and takes the pressure off while they are initially familiarizing themselves with company protocols. Mentoring is open and collaborative relationship between a mentor and mentee that is built on trust.  The relationship is defined by both parties. It can be formal or informal.  
"Engagement is the key to learning and development and being involved in a mentoring relationship can be quite profound as both mentors and mentees make themselves vulnerable, trusting in the process as they confidentially share insecurities, struggles ,mistakes, and valuable learnings with each other. It's a level of transparency that makes this experience unique and helps accelerate one's personal and professional development. Having a strong mentoring program not only helps to engage and advance women in the organization, it builds supportive relationships and fosters a culture of learning." 

⁠—Beth Potratz, President and CEO, Drive My Way 
What Are the Benefits?
By instating a driver mentor program, you aren't just helping your newest team members. You are also helping the experienced drivers who become mentors, as well as your company as a whole!  
For the mentee, the benefits cannot be understated.  
A low pressure way to learn about company culture and expectations. 

 

Access to an experienced driver's tips, tricks, and advice. 

 
Guidance whenever they have questions. 

 
At the same time, experienced drivers who take on the responsibility of becoming a mentor will experience benefits too.  
A chance to progress their career by developing coaching

 skills.

 

Increased pay or other company incentives.

 
The feeling of company recognition for being selected in this important role. 

 
Besides increased retention rates, there are other ways a mentor program can benefit your company.  
Lower your insurance rates with safer drivers. 

 

Foster a team environment through increased positivity and communication. 

 
Save money on training seminars. 

 
Changing the Face of Trucking, One Mentor at a Time
Driver mentor programs also offer another benefit, one that will help in developing the entire trucking industry. As more women and members of underrepresented communities enter the field, mentors are a great way to ensure they receive the support and guidance they need while forging new paths in the industry.  
Organizations such as Women In Trucking (WIT) offer their own mentorship opportunities, including their Mentor Match Program and online community platform Engage. Through these programs, WIT promotes connection, support, and mentoring for women entering the field and offers a chance for experienced drivers to give back.  
Although programs like these are changing the trucking industry, there is no better way to support your drivers than by starting at a company level. A driver mentor program demonstrates to these employees that you appreciate and prioritize them, enabling you to grow your fleet while attracting top talent from diverse backgrounds.  
Driver mentor programs are a great way to save money and time while demonstrating to your drivers that their success is your top priority. Mentors also encourage diversity and growth in an evolving industry and are becoming an important differentiating factor in today's highly competitive market.  
We'd love to hear any mentor success stories, or lessons you've learned while pairing up drivers, so be sure to reach out to us on social media! 
https://hiring.drivemyway.com/wp-content/uploads/2023/08/blog-photo-16.png
630
1500
Elijah Larson
https://www.drivemyway.com/wp-content/uploads/2019/03/Untitled-1-3.png
Elijah Larson
2023-08-03 14:36:04
2023-08-03 14:36:15
Why Your Company Should Have a Driver Mentor Program