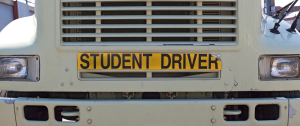 As your recruiting department begins to plan for 2024, there are several different types of candidates to consider ensuring that you not only have a fresh pool of talent, but have positions filled as soon as they become available. One of the most overlooked types of candidates is a student truck driver. There are several reasons to recruit and hire student truck drivers and some of the key benefits are outlined below.  
Student truck drivers are a lucrative option for your recruiting efforts because they offer several key benefits that other truck drivers in the field do not, and the cost to recruit student drivers is comparatively less than it is to hire seasoned ones.  
Available and Need to Be Hired: Student truck drivers want to ideally have a job lined up as soon as they receive their CDL and finish training. With being so readily available, carriers can hire quicker and start lining up candidates as positions open. New and student drivers are eager to begin their careers and establish themselves as professionals in the industry. A student truck driver may be more open to a variety of positions and be willing to learn a new skill versus an experienced driver.  
CDL Training is Fresh: A student truck driver has just received their training and is eager to put their skills to use out on the road. They have spent hours behind the wheel and have been tested in ways that would prove them ready to handle the job ahead of them. They have also been drug tested and have been through several courses on safety.  
Eager and Willing to Learn: Student truck drivers who are about to graduate or have recently graduated, are eager and willing to learn what it takes to succeed in their profession. They are excited about job opportunities and are highly trainable and willing to adapt to carriers' rules and expectations. Entry-level candidates are also ready to prove themselves to their employers, gain experience, and make important connections with others in the industry.  
Opportunity to Reduce Driver Turnover: The most common reason truckers are leaving the industry is retirement, so recruiting student truck drivers and newer drivers with less experience is actually a great way to build a strong foundation of drivers that will benefit your carrier as more seasoned drivers begin to retire. Working with entry-level candidates right out of school is also a way to build strong relationships and strengthen driver retention from the moment they are brought onboard.  
If your strategy includes hiring student drivers or training recent grads you have the opportunity to give and receive feedback on this important topic.  
Fleets like yours are preparing for what their student and trainer programs will look like in 2024, and Drive My Way's trusted partners at The National Transporation Insititute are conducting the 2023 Student & Trainer Pay Survey. This industry resource is vital to understanding how to structure your compensation model to remain competitive for those invaluable and in demand new entrant drivers and the trainers that teach them their new trade.   
Please fill out this form if you're interested in participating or seeing the results of that survey once it's completed: Click here to sign up to participate in this survey. 
Hiring a student truck driver could be the best possible option to fill your latest open position. To learn more about recruiting quality candidates for your freight carrier, please follow our blog for regular updates. You can also connect with us on Facebook or LinkedIn to learn more about what it's like working with Drive My Way.  
https://hiring.drivemyway.com/wp-content/uploads/2023/11/blog-photo.png
630
1500
Emily Bihm
https://www.drivemyway.com/wp-content/uploads/2019/03/Untitled-1-3.png
Emily Bihm
2023-11-08 19:45:07
2023-11-08 19:46:57
Key Benefits of Hiring a Student Truck Driver