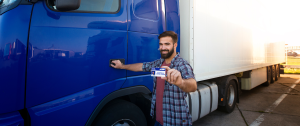 With over 750,000 active trucking companies in the U.S., according to the American Trucking Associations (ATA), there is a lot of pressure to offer unique benefits to attract top tier, quality drivers. One benefit that more carriers are offering is paid CDL training. Paid CDL training is a distinct way to differentiate yourself from other carriers and stand out to new drivers who are interested in a career in truck driving.  
What Is Paid CDL Training? 
Paid CDL training is a program adopted by a freight carrier to pay for drivers' initial training and CDL certification, in exchange for some commitment to the company following the conclusion of the program. Generally, most carriers require a minimum of 6 months and up to several years commitment if a driver engages in their paid CDL training. Some companies offer the paid CDL training in-house, whereas some pay for the training through a third-party training program.  
When offering paid CDL training it is important to clarify whether the company will cover the costs of the training, or if the driver will be expected to reimburse the company through paycheck deductions once hired. Many drivers will not understand the difference coming in, so it is vital that this information is provided upfront.  
What Are the Benefits of Offering Paid CDL Training?
Most carriers that offer paid CDL training find it to be extremely beneficial in building a strong team of drivers. Companies that have a large fleet generally gravitate towards company paid CDL training as it ensures a pool of available candidates, eager to begin their career in trucking and ready to get on the road as soon as they graduate.  
Paid CDL training is not only a great tool for recruitment, but it can be seen as a huge benefit to many new truck drivers who are not sure where to begin their career in trucking. Many enjoy the prospect of knowing they will have a job immediately upon graduation and having guidance through the process of attaining their CDL.  
Carriers That Are Helping to Pay for CDL Endorsements
Carriers that help pay for CDL endorsements often find that their retention rate increases, as does company morale. Offering beneficial programs like paid training show prospective and current employees how much the company cares about building a successful team and keeping them around for the long haul.  
There are many carriers offering to pay for CDL endorsements including, but not limited to:  
Sysco Asian Foods

 

Swift Transportation

 

Maverick Transportation

 

XPO Logistics

 

C.R. England Global Transporation

 
Offering paid CDL training has several pros and cons but could ultimately be a solid strategy for ensuring your team has an ongoing influx of experienced drivers coming onboard after receiving their CDL endorsements. For more tips on the best recruiting and retention practices in trucking, make sure to check out our blog.  
https://hiring.drivemyway.com/wp-content/uploads/2023/09/blog-photo-33.png
630
1500
Emily Bihm
https://www.drivemyway.com/wp-content/uploads/2019/03/Untitled-1-3.png
Emily Bihm
2023-09-27 15:03:18
2023-09-27 15:03:50
Carriers That Are Helping to Pay for CDL Endorsements