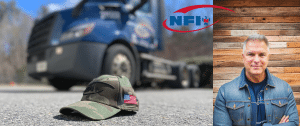 Truck driving is a career path that demands strength, resilience, and commitment to seeing a job through. A good driver can take pride in the work of a job well done, even during the long, quiet miles of the open road. The same skills are required of the courageous men and women who serve our country. However, for veterans who choose to become drivers, the transition from the armed forces to trucking can be a challenging one, especially when it comes to mental health. We spoke with David Pike, Director of Recruiting for NFI, who shared his story of life as a military veteran and ways he's found support with the trucking industry. 
A Comrade in Arms
David Pike's professional journey began in the Marine Corps, where he worked until 1994. After working in an ammunition and explosives MOS for six years, Sergeant Pike was returning from the Western Pacific deployment when he learned there were opportunities to be assigned to recruiting duty stateside and in the local community. He took the opportunity and quickly fell in love with the rewarding feeling of how recruiting can change someone's life. 
"Initially, in military recruiting, you're selling the glory, honor, and reputation of the Marine Corps. That changed shortly after a young Marine I had recruited, returned home from boot camp and said, "Thank You". Not sure at the time why gratitude was extended, "It later hit me that I had changed that Marine's life and gave him an opportunity and hope for a better future." Pike said. Later, Pike shared, "Changing someone's life is powerful and should be taken with the highest level of responsibility in any profession, especially transportation," and this is why he loves so much of what we do in recruiting. He later noted, "We truly and genuinely affect people's lives." 
In 1993, upon leaving the Marine Corps after almost 10 years, Sergeant Pike transitioned his recruiting skills into the transportation industry. That transition was not without hurdles, but his story is a testament to resilience and dedication. He stated that in the 30 years since joining the transportation world, he and his team fully embrace the concept of changing lives and not "filling seats." Pike shared with us a few of his most passionate items relating to his profession; and being a veteran himself, it is obvious that is one area that he is championing within NFI. Veterans all too often need advocacy when coming to a new industry. Veterans speak the same language and understand each other's stories, challenges, and armored front better than most.  
Supporting Drivers: Unseen Battles
Stress is a real issue in the transportation industry. Professional drivers may be comfortable dealing with the challenges of the road, but veterans have other battles and challenges they may be dealing with that are unique. "Mental health battles are often left unseen and not addressed," Pike states. He highlighted the unspoken realities of veterans transitioning from military to civilian life. He pointed out that, 
"As veterans, we are expected to blend seamlessly back into civilian life despite having put up a shield for years even while carrying emotional burdens, memories, and experiences that most people will never understand. In the service, especially if you have any position of leadership, you are taught to NEVER show weakness, show confidence to your troops." 
As a veteran, professional drivers may be reluctant to share their experiences from their past, even if it's negatively affecting their present work. However, as an employer, sometimes simply checking in on the well-being of your drivers, especially at the human level, can make all the difference. Pike shared a powerful story about the significance of prioritizing humanity and respect as a recruiting professional. He recounts an experience with an Iraq War veteran translator and now a professional driver, Mohammed. Mohammed showed classic traits of stress and being visibly strained.  
His transportation manager reached out and learned that he was struggling with a tremendous burden and was now financially responsible for his brother, sister, and mother. They relocated to the States after the Iraq War. Due to his new familial responsibilities and schedule, Mohammed's manager engaged and helped find solutions that would work for both Mohammed and NFI. This provided him a more conducive schedule to allow time to address those burdens and challenges at home and remain with NFI. Pike states, "It is that level of human connectivity that is often forgotten in trucking" and one we agree needs to return. When carriers engage at a human level, everyone wins; carriers earn loyalty from their associates, associates feel appreciated, and all related items tend to fall in place. The human factor is something Pike emphasizes and is something that sets his employer, NFI Industries, apart from so many others in the industry.  
The Power of Understanding
Truck drivers may not always talk about mental health, but it's a subject that affects us all. Pike was very open with us about his mental health struggles and ongoing resolution. His journey serves as a reminder that we're not alone in this. In his role as Director of Recruiting with NFI, Pike knows that veterans often emerge from service with emotional armor, and the industry has a role to play in helping them transition to civilian life successfully. He advocates for support that comes from trucking companies and from fellow drivers, especially those who are brothers in arms. 
"We, as an industry, have to recognize that every veteran is coming out with an armored up mentality around one's own struggles. We have to learn how to help veterans tear that armor down and be more receptive. How do we provide the tools and resources? How do we open doors for those veterans to get the help and get the transitional needs when they're uncomfortable discussing their challenges? Connecting at a human level is where we have to start." 
As recruiters in the trucking industry, Pike emphasizes the personal and company-wide responsibility to appreciate the value veterans bring to work teams. Their resilience, discipline, and dedication are qualities that can greatly benefit our companies and industry. Furthermore, he argues that employers must create environments that encourage open discussions about mental health and provide support to veterans and anyone else who needs it. 
Knowing the value of veterans, NTI is asking companies about how they recruit and retain military veterans in trucking careers. The results of this survey will yield invaluable insights into one of the most important recruiting segments in trucking. Please take a few minutes to tell them about your company's recruiting and retention practices via this survey (at this link). They want to hear from you! 
The trucking industry can be a place of opportunity, support, and growth for veterans, provided employers are willing to open doors and extend a welcome to them. Through education, support, and understanding, employers can create an industry where veterans thrive and their unique skills and experiences are celebrated. 
https://hiring.drivemyway.com/wp-content/uploads/2023/11/David-NFI-article.png
630
1500
Alayna Klco
https://www.drivemyway.com/wp-content/uploads/2019/03/Untitled-1-3.png
Alayna Klco
2023-11-10 21:37:16
2023-11-10 21:40:01
Hiring Veterans: An Insider Perspective from NFI's Director of Driver Recruiting