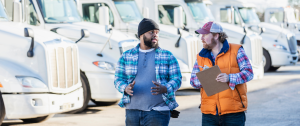 Commercial truck driving is one of the most dangerous jobs in America. It's also one of the most important, with drivers across the nation responsible for transporting over 70% of the United States' freight.  
Each year, Truck Driver Appreciation Week provides the perfect opportunity to recognize and celebrate the tireless commitment of commercial drivers around the country. Here at Drive My Way, we've noticed that many of our clients have found creative and thoughtful ways to uplift their drivers with fun gifts, exciting games, and heartfelt messages. 
Keep reading to find out how our clients are shining the spotlight on their drivers this appreciation week, and how to keep the recognition going all year round. 
Goody Bags, Prizes, and More!
Presents don't have to be limited to birthdays or the holiday season any more! This September 10-16, many companies will provide their drivers with unique merchandise, useful tools, or fun swagto show their appreciation. A personalized gift is a thoughtful way to reward drivers for their hard work and show that you care.  
This year, drivers at Go-To Transport can look forward to receiving a fun collection of company merchandise from display tables set up at their locations throughout the country. A Go-To tumbler, pen, and personal thank you card will be available to every company driver that stops by throughout the week. Drivers will also be able to choose between either a baseball cap, beanie, or a hoodie, depending on supplies.  
Drivers for NFI Industries are sure to enjoy choosing from a wide range of fun gear this appreciation week too. With locations across the country and over 4,500 drivers and contractors nationwide, NFI has stepped up by offering company hats, shirts, duffle bags, lunch boxes, and more!  
Meanwhile, Schwend, Inc. is utilizing its four locations across the South to set up stations for drivers to receive goody bags and door prizes this appreciation week. Prizes will range from Schwend merchandise to tickets for a weekend vacation!  
At each location, Schwend will also be setting up a breakfast and lunch serving station, where drivers can receive a home cooked meal each day of appreciation week. But for any driver that isn't able to make it to a company terminal, there's no need to worry! Schwend will offer to cover a few meals throughout the week for any driver out on the road.  
Do Something Nice
You can never say 'thank you' too often. For many commercial truck drivers, they don't hear it enough. This Driver Appreciation Week, show your team how much you care by sending out a thoughtful message or organizing an exciting event.  
The management team at Go-To Transport has been busy working with their marketing division to create a video of thank you messages for drivers to go on company social media pages. Hearing words of appreciation directly from management helps keep drivers invested in the company mission by highlighting the direct impact they have through their hard work.  
At NFI, it's clear they know food is the way to everyone's heart. Besides offering catered breakfast and lunch throughout the week, the company will be holding BBQ cookouts and picnics with food trucks, snow cone trucks, and raffle giveaways to celebrate their hardworking drivers across the country. 
At Schwend, their late summer employee appreciation picnics act as an extension of Driver Appreciation Week each year with cash prizes, CB radio giveaways, games, and more. Held at their Jasper, TN, and Dade City, FL, terminals, the picnics are open for all Schwend employees, but focus on drivers and their families.  
Truck Driver Appreciation Week is an annual reminder of the dedication, sacrifice, and commitment of commercial drivers across the nation. It's a time to recognize and celebrate drivers, and to highlight the incredible contributions they make each day to the economy and our way of life.  
Drive My Way is proud of our clients and the efforts they make each year to acknowledge the hard work of their drivers.  
If your company celebrates Driver Appreciation Week in a unique way, or you'd like to be featured in more stories like this in the future, be sure to reach out to us on social media!  
https://hiring.drivemyway.com/wp-content/uploads/2023/09/blog-photo-26.png
630
1500
Elijah Larson
https://www.drivemyway.com/wp-content/uploads/2019/03/Untitled-1-3.png
Elijah Larson
2023-09-07 16:51:44
2023-09-07 16:52:04
How Our Clients Are Celebrating This Driver Appreciation Week