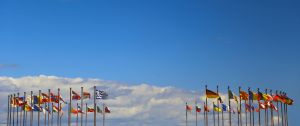 What would you do to have access to hundreds of drivers, each with over 10 years of experience?
That's the question Chad Hendricks, President of Experienced Associates and host of the Recruit and Retain podcast, often asks recruiters before sharing with them the benefits of hiring international drivers. 
Programs such as Experienced Associates, which is based in Green Bay, WI, but partners with drivers in South Africa, offers an opportunity for American companies to create a diversified talent pipeline while providing international drivers a path towards U.S. citizenship. Keep reading to find out why international truck drivers could be the solution to your recruiting and retention problems.  
"The True OTR Driver That We're All Looking For"
In today's market, it can be difficult to overcome high turnover rates, insurance company requirements, and the growing trend of drivers preferring local jobs. For Hendricks, international drivers bridge these gaps while benefiting everyone involved.  
"What we mean by experienced drivers is that these kinds of drivers have diesel in the blood," says Hendricks. "They've been in this industry for a long time. They know what it means to work hard in transportation and that they could be on the road for weeks at a time. The true OTR driver that we're all looking for."  
Every international driver partnering with Experienced Associates must have at least a decade of trucking experience, a U.S. CDL, and conversational fluency at reading, writing, and speaking English. They also sign on for a minimum of three years of employment, although the position can be terminated at any time by the employer. The incentive of receiving a Visa through sponsorship assures that these drivers are committed, hard working, and vested in seeing the contract completed. 
Guaranteed Results
Initially launched as a pilot program in collaboration with Schneider National, the immediate success of the partnership led to the development of Experienced Associates in 2018.  Co-founder Rob Peacock's past experience as CEO of a company that assisted non-U.S. citizens with receiving educational training in the U.S. while driving for American companies proved key to Experienced Associate's commitment to find quality drivers who are a right fit for U.S. carriers.  
Based in Johannesburg, South Africa, Peacock is able to administer an extensive vetting process for every driver recruited, which includes criminal background checks, hair follicle drug testing, and English language screening. Peacock's team even handles compiling driver portfolios, which are presented to U.S. recruiters to make the final selection.  
Another component key to the success of programs like these is the varied experience of the drivers.  Being able to select from a large pool of candidates with a wide range of skills ensures that there is always a driver for the job, whether it requires experience hauling flatbed loads, hazardous materials, team driving, or more.  
"This is the first time I've felt that I could actually guarantee results," says Hendricks. "I could guarantee experienced drivers, guarantee profitability and return on investment. These drivers weren't quitting and causing hire turnover, and the hiring process became like a pipeline. It was predictable, and all the costs were known. To me, it felt like a dream come true." 
Although some recruiters in the U.S. might be hesitant to offer positions to international drivers, companies like Experienced Associates design these programs with that in mind. Instead of disrupting the recruiting process, these opportunities fill gaps that could otherwise affect the economy, driver and freight shortages.  
Investing in innovation is more necessary than ever in today's highly competitive market, and hiring experienced, international drivers is a surefire way to meet your recruiting and retention goals while fueling growth in your company.  
If you're looking for more information on Experienced Associates or the work being done by Chad Hendricks and Rob Peacock, be sure to check out Hendricks' Recruit and Retain podcast episode where the two discuss the benefits of hiring international drivers.  
Here at Drive My Way, we love to learn about innovative recruiting strategies and how to stay ahead of the curve. If you have recruiting advice, or you're looking to learn more about our mission, check out our social media today!  
https://hiring.drivemyway.com/wp-content/uploads/2023/09/blog-photo-28.png
630
1500
Elijah Larson
https://www.drivemyway.com/wp-content/uploads/2019/03/Untitled-1-3.png
Elijah Larson
2023-09-14 16:33:20
2023-09-14 16:34:20
The Benefits of Hiring International Drivers