Truck Driver Job Description Template
Your job description can either convert or lose applicants. Follow this template to make sure you're on the right track.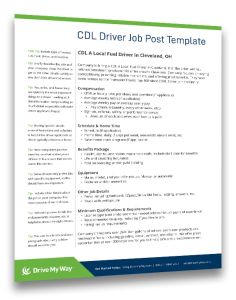 About the Template
Is your job description written for the driver? Making sure to lead with information that drivers are looking for is extremely important.
Drivers are looking for transparency and for the full details about your job. If your description holds any of this information back, you may risk preventing the driver from filling out your application.
Does your job description include?
A well-written job title
Compensation
Benefits package
Equipment: type and amenities
Schedule and home time
Additional job perks
Information about your company and the role