Truck Driver Incentive Program Checklist
The best incentive program is the one that's effective, sustainable, and engaging for drivers.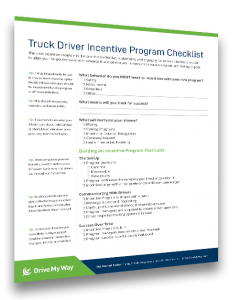 About the Checklist
Use this checklist to align your target behavior with rewards that motivate your drivers and create a program with lasting impact.
Does your incentive program clearly answer these questions?
What behavior do you MOST want to incentivize with your new program?
What metric will you track for success?
What will motivate your drivers?
Building an incentive program that lasts