Top 7 Reasons Truck Drivers Decline Your CDL Jobs
Current ways of recruiting CDL truck drivers just don't work anymore. That's because recruiting isn't a transaction.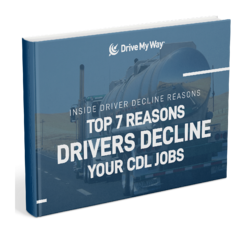 About the Guide
Just like any other employees, truck drivers consider a variety of factors when deciding which company to work for. Some factors are obvious, such as compensation and benefits. Some other factors may surprise you.
As a recruiter, you may think that you've all but sealed the deal on a new candidate but then they end up declining the job. Drivers may not be open with you about why they declined the job, but it is useful for recruiters to have this information.