The Quick Guide to Employee Value Proposition
Identify what makes your company different and learn how to effectively communicate to drivers.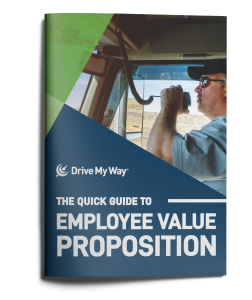 About the Quick Guide
An employee value proposition is all about what makes you different. It's a driver's market right now, and there are a lot of trucking companies out there. Why should they choose you?
This guide has helped multiple employers identify what makes their company different and then also learn how to communicate this to drivers.
A few highlights of what's inside:
Knowing your company goals
Defining your employee personas
Identifying your driver priorities
Assessing your available value add