Lease Purchase Driver Job Description Template
Writing an effective job description for lease purchase drivers is the key to attracting the right applicants for your company.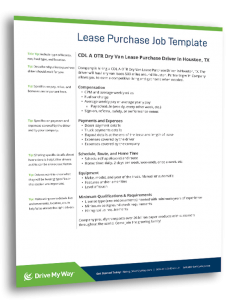 About the Template
Is your job description written for the lease purchase driver? Making sure to lead with information that lease purchase drivers are specifically looking for is extremely important.
Lease Purchase drivers are looking for a company to help them take the next step in their career towards eventually becoming an Owner Operator. Including transparent details about expenses, payments, compensation, miles, loads, home time, and equipment requirements will help you attract the right applicants.
Does your job description include?
A well-written job title
Compensation
Expenses and payments
Equipment requirements
Schedule and home time
Additional job perks
Information about your company
*Disclaimer: This is meant to be a guide only. Many lease purchase programs differ in offerings.