Owner Operator Job Description Template
Writing an effective job description for owner operators is the key to attracting the right applicants for your company.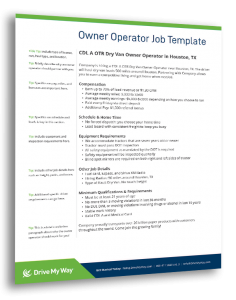 About the Template
Is your job description written for the owner operator? Making sure to lead with information that owner operators are looking for is extremely important.
Owner Operators are looking for a company they can partner with, not a company that restricts them. Including transparent details about pay, miles, loads, home time, and equipment requirements will help you attract the right applicants.
Does your job description include?
A well-written job title
Compensation
Equipment requirements
Schedule and home time
Additional job perks
Information about your company